Google Penguin 4.0 – New algorithm update and what you need to know
After many months of waiting in anticipation, Google has finally confirmed Penguin is running again. But this time, as part of the core algorithm.

What is Penguin?
First announced way back in April 2012, the update was introduced as a way of tackling black-hat SEO techniques that have plagued the industry and were being used to artificially boost the rankings of a page. In particularly it looked to target businesses and agencies who were buying and obtaining or creating links through link networks of sites and personal blogs.
The impact was estimated at approximately 3.1% of search queries in English. It resulted in some high profile sites falling way down the search engine results page (SERPs), some even dropping off completely.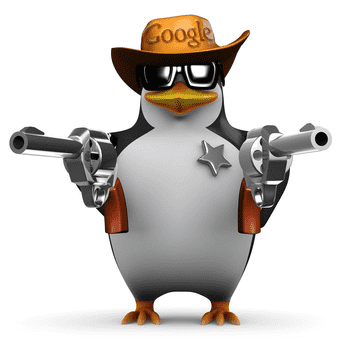 What's the difference this time around?
This is the seventh revision of Penguin and the first in 2 years and it's quite a big one.
Whereas previously sites affected by penguin was periodically refreshed at the same time, the impact of penguin (whether positive or negative) will be noticed after a much sooner, especially after recrawling or reindexing a page. On the official statement by Gary Illyes from Google he says…
"With this change, Penguin's data is refreshed in real time, so changes will be visible much faster, typically taking effect shortly after we recrawl and reindex a page. It also means we're not going to comment on future refreshes."
In terms of affecting your SEO, this real-time update can affect your ranking very quickly, both in a positive and negative way. Whilst inevitably there is a degree of worry when an algorithm is updated/introduced as you can be hit by a penalty, the real-time update decreases the amount of time it will take to re-establish your place in the SERPs. Providing you adhere to the Google Best Practices.
The next part of the official statement is also interesting as Illyes discusses the fact that penguin is now more granular. He further went on to state…
"Penguin now devalues spam by adjusting ranking based on spam signals, rather than affecting ranking of the whole site"
This is quite an interesting update, as previously Penguin was a sitewide penalty. Presumably being more granular means pages, but Illyes was asked for a little more clarity. He responded with…
"It means it affects finer granularity than sites. It does not mean it only affects pages."
An interpretation of this statement could be they might impact specific pages on a site as well as sections of a site, while other pages are still ranking fine. So keep an eye on your converting keywords and pages!
Finally, the last thing of note goes somewhat against a positive change Google have made in recent times. Previously, there was a lot of guess work and confusion around updates and algorithm changes. Recently, there was a lot more clarity, with Google regularly giving us statements either on their blog, or through twitter. Does this see a change back to the older style or secrecy? Or is it a case of trying to avoid wasting employees time? Who knows!
| | | |
| --- | --- | --- |
| Version | Date | Details |
| Penguin 1.0 | April 24, 2012 | It adjusted a number of spam factors (keyword stuffing etc) and impacted an estimated 3.1% of English queries. |
| Penguin 1.1 | May 25, 2012 | This was basically confirming that Penguin data was being processed outside of the main search index, much like Panda data. |
| Penguin 1.2 | October 5, 2012 | This update impacted just 0.3% of queries in what was seen as a relatively minor update. |
| Penguin 2.0 | May 22, 2013 | The exact nature of the changes was unclear, but some evidence suggested that Penguin 2.0 was more finely targeted to the page level. |
| Penguin 2.1 | October 4, 2013 | Given the 2.1 designation, this was probably a data update (primarily) and not a major change to the Penguin algorithm. The overall impact seemed to be moderate, although some webmasters reported being hit hard. |
| Penguin 3.0 | October 17, 2014 | Over a year after the last update, Google refreshed the algorithm with Penguin 3.0. The update had a relatively smaller impact than expected (<1% of US/English queries affected) and was probably data-only (not a new Penguin algorithm) |
| Penguin 4.0 | September 23, 2016 | Just under two years after the last update, Penguin was finally baked into the core algorithm and is across all languages. The update is also in real-time and looks much more granularly. |
Is there anything to worry about?
In short, not in the immediate future.
Very little has changed in terms of the "rules" of the algorithm, so by maintaining a high standard of SEO practice, you should see effect. The SEO team at The Marketing Mix see the updated algorithm as
"…more convenient, but essentially nothing changed."