Your Presence is Important to Us
It's official, folks – the people have spoken and it is time for YOU to listen. Australians love them some social media.
So much so that the average Facebook user is accessing the site 37 times per week, an extra 12 times a week from last year's report. Instagram and Snapchat usage are both up, too.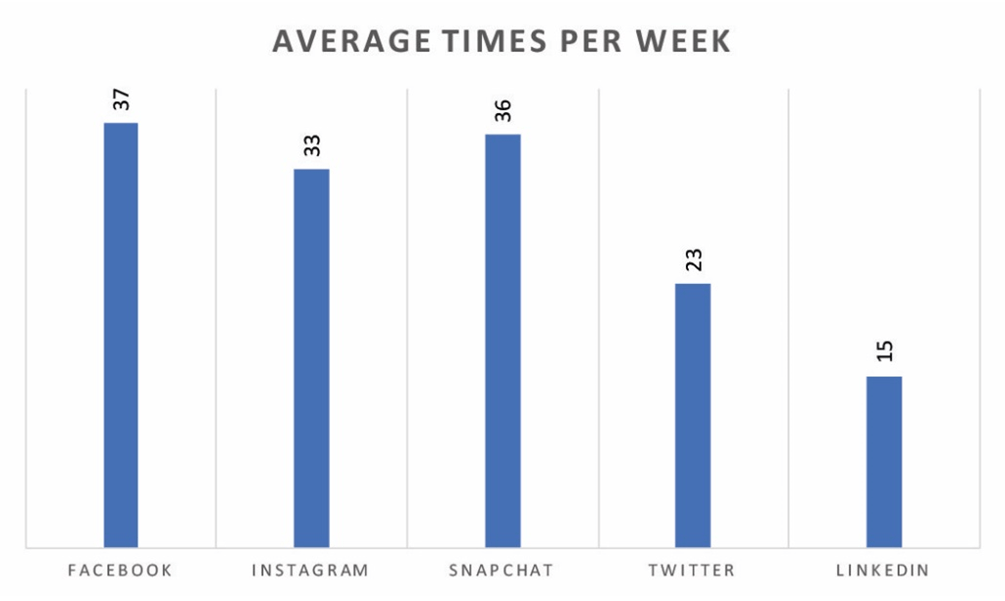 The 2018 Yellow Social Media Report canvassed a group of consumers and a number of businesses and delivered some juicy insights into the landscape of social media in Australia and the results were real.
Let's break it down.
First things first – your presence on the internet as a business.
If I had a dollar for every time I stalked a business on social media before I purchased from them, I'd probably have the same net worth as Kim Kardashian. And it's not just me!
More than two thirds of people will insist on reading online blogs and reviews before making a purchase decision. On average, they read eight per purchase decision. That's some hardcore Googling.
Too many business owners are burying their heads in the sand and denying this trend is even a thing. We hear of business owners saying they have no time for social, or they do not have the budget, or they cannot figure out what it would do for their business.
Here's a hot tip of what an online presence can do for your business: relevance.
Consumers are becoming savvier and savvier. They want to know who has the best service or deal, and this has ushered in a plethora of compare sites.
Potential customers want to know what other people are saying about your business. Are you helping or hindering these people from finding your business?
A good website, some solid reviews on a couple of review sites and an active Google My Business is a good start to being found. The more you cultivate, the more business you are likely to attract. It's like digital word of mouth.
Content is Queen
Bad content has been flagged as the biggest reason why people unfollow brands on social media.
In the latest Yellow State of Social report, consumers were asked if they had unfollowed a brand in the past three months. A whopping 18% of people in the study said they had unfollowed a brand – an 8% jump on the numbers from 2017.
Of all the reasons offered, the most common was irrelevant or unappealing content, followed by too much content.
Herein lies a lesson for marketers and business owners as we head into 2018: CONTENT MATTERS.
In the current social media landscape, followers are so hard to gain; you don't want to lose your captive audience because of bad content.
In Agency Land, there is constant battle between client and account manager that revolves around the ROI of social media. And one of the first expenses to be cut to make way for more advertising dollar is the content.
But what this report has cleverly demonstrated is that your content does matter. It matters because often times it is your consumers first encounter with your business.
So, remember: quality over quantity.
Reach me on the toilet
As a business, when you are communicating with your ideal customer, you never know where you are reaching them, but one thing you can be sure of: more than 20% of people surveyed admitted to using social media on the toilet. What a great opportunity for an ad about re-stocking their toilet paper supply!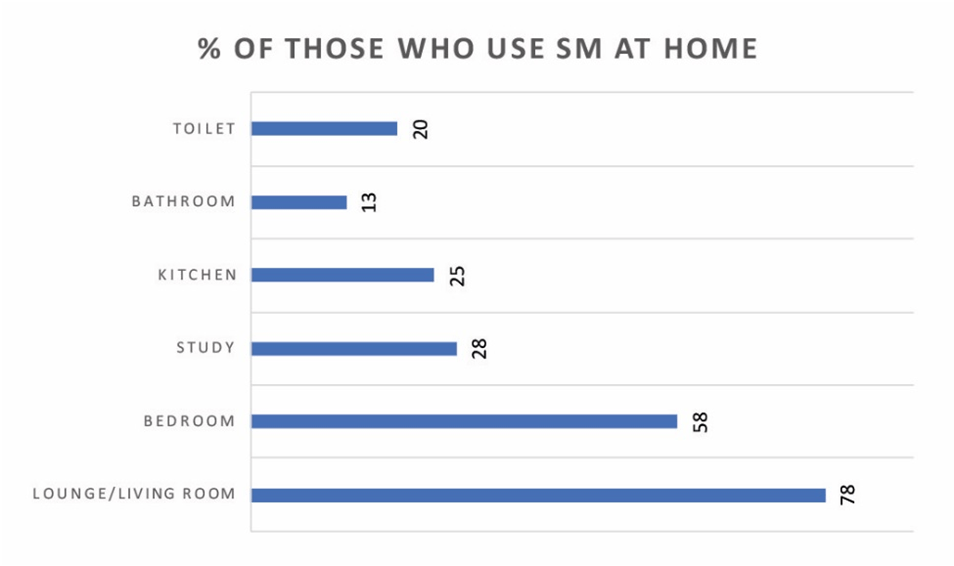 In actuality, most people are logging onto their accounts early in the morning or in the evening.
So what lessons can we take away from this? You have a large captive audience during these two times where you can create demand and perhaps even spur on purchases.
After a long day of work, most people take a few hours of scroll time. The question we ask always is how the products we sell fit in with that scroll time. If you can stop the scroll, you are half way there.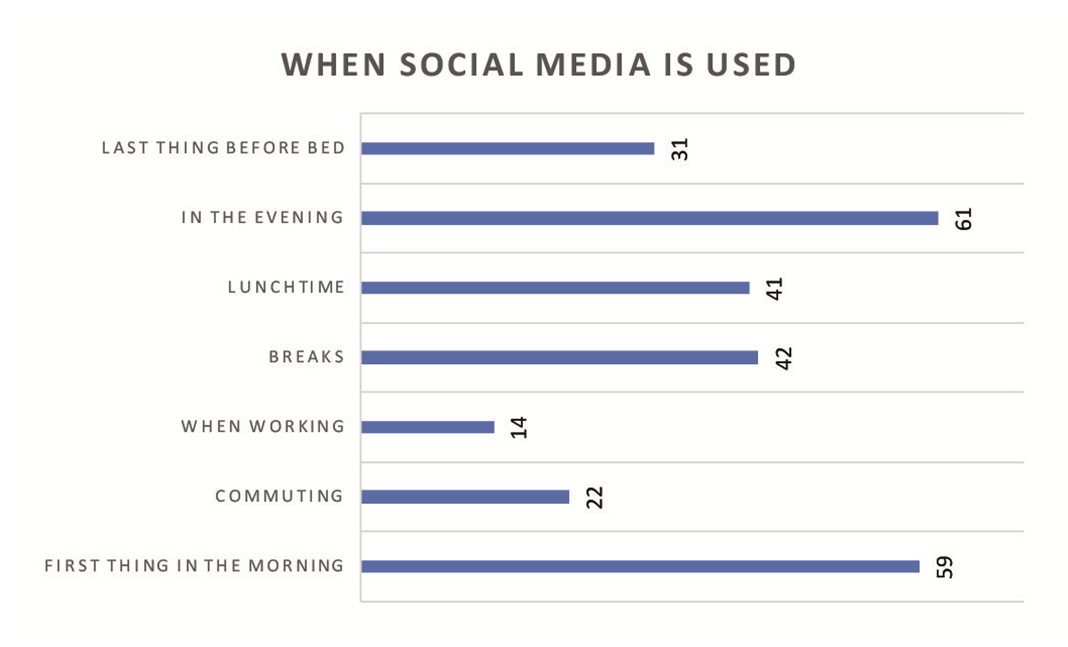 They are there for you
Contrary to what most people believe, social media is an excellent place to do brand research and the survey respondents agree!
About 28% of the people surveyed said they use social media to follow or find particular brands or businesses, whilst 23% said they use social media to research products and services they might want to buy.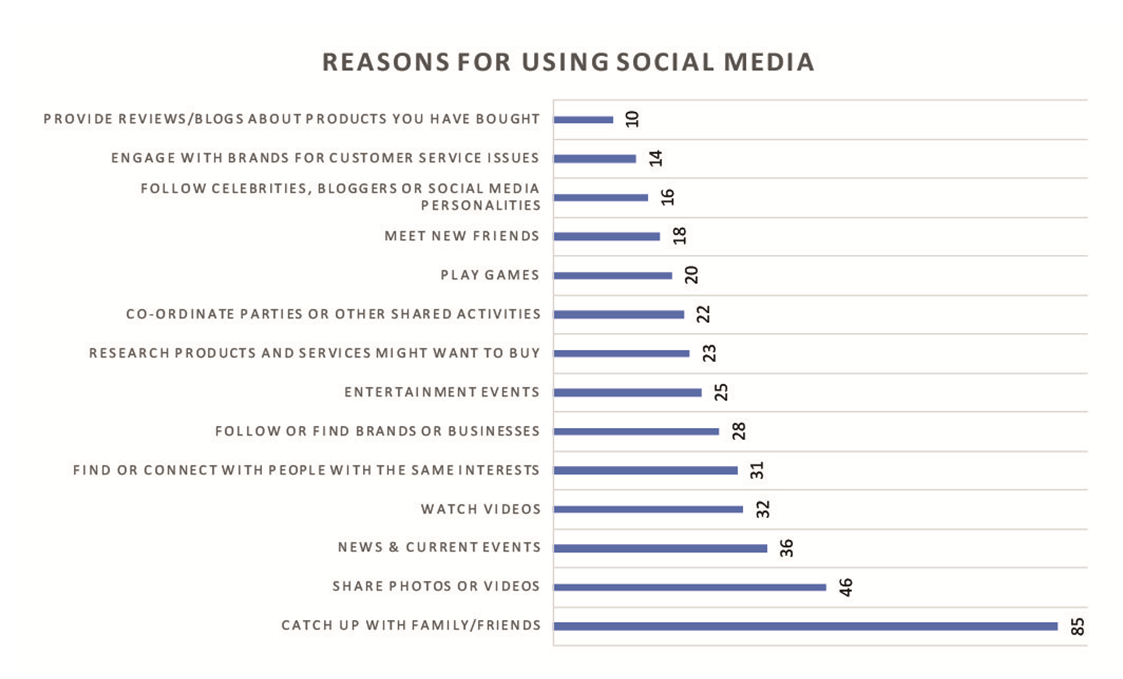 That's more than those who use it to organise parties (22%), play games (20%), meet new friends (18%), or follow celebrities and bloggers (16%).
It is no longer enough to say that people on social media do not want to interact with businesses. They're here for it. Question is, are you there for them?