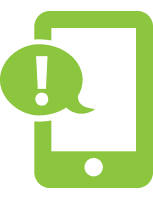 SMS
Get more personal.
SMS is one of the quickest and easiest ways to get your message out to a large group of people in a short time frame. Customers will almost always read an SMS and they generally read it quickly too.
So stay in touch and communicate on a direct level with your customers using The Marketing Mix's Variable Data SMS delivery system. Advances in mobile technology means our system has the ability to direct the end recipient to your website or a specific web page with an offer.
More businesses are choosing SMS mobile marketing as the preferred method to keep in touch with customers, suppliers, members and personnel. As a direct communications medium, SMS is a cost effective and direct way to connect to your 'mobile' audience.
We have 3 options available:
One-Way (no replies)
Two-Way (replies sent to your mobile)
Two-Way (replies sent to your email)