How Oneflare Is Dominating Local Business Search In Australia
Today we are going to outline how one site is dominating almost every local service business search niche in Australia. For most small  businesses ranking on the front page of Google is a dream. Of course it would be nice to rank but it takes time, money and a lot of effort. However one site is ranking for almost every service. Once site to rule them all… Oneflare.
To begin this journey let's take a look at how we discovered Oneflare's domination here at The Marketing Mix. Being astute marketers we are constantly checking the search results on Google for different niches. Oneflare kept popping up for a bunch of terms such as Plumbers in Perth, DJs Perth, Electricians Sydney etc that our clients were competing in. Out of interest we plugged the Oneflare's URL into SEMRush and this is what we saw…
That's right in the last year Oneflare has gone from relative search obscurity to generating $1.1 million dollars AU of traffic per month.
Of course this could be attributed to a major brand launch with tonnes of mainstream advertising. If this was the case OneFlare would have some major brand search. But no, this is all generic keywords. According to the SEMrush Oneflare's top 10 Keywords are:
| Keyword | Position | Previous Position | Number of Searches |
| --- | --- | --- | --- |
| electrician | 2 | 10 | 9900 |
| tv repair | 1 | 1 | 1900 |
| catering adelaide | 1 | 1 | 1000 |
| panel beater | 2 | 5 | 3600 |
| roof painting perth | 1 | 2 | 880 |
| adelaide acupuncture | 1 | 1 | 880 |
| best house cleaners melbourne | 1 | 1 | 880 |
| shop fitters melbourne | 1 | 1 | 880 |
| perth surveyors | 1 | 1 | 880 |
| shop fitters brisbane | 1 | 1 | 880 |
But this is only the tip of the iceberg. They are ranking for almost any service. They've taken over almost every service industry…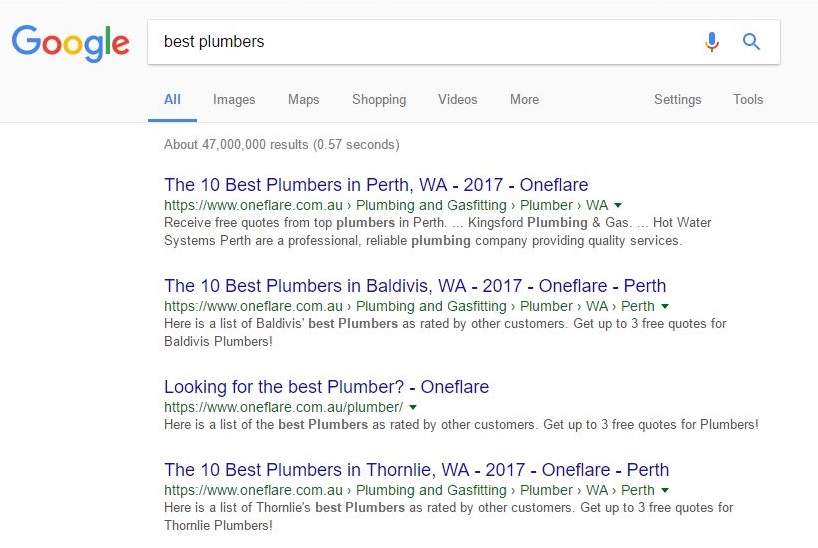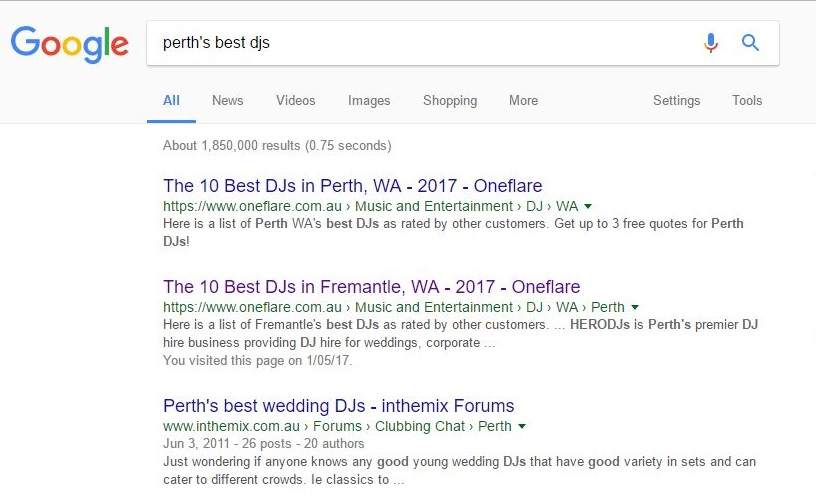 Try yourself, search for any service, trade or similar in Google.com.au at you are likely to find Oneflare on the front page.
So how as Oneflare achieved this? Surely they have some high quality content. Not really. Basically each result is just a basic list of the businesses in the area. But it's a nice site and they give relevant results, at and the end of the day that is all you need. Oneflare started in 2011 and has had some modest SEO success up until mid-2016. But what's happened since then to grow organic traffic in the last year? Why the massive boost? Enter Fairfax media. In May 2016 Oneflare announced a partnership with Fairfax Media's Domain group and their organic rankings have exploded. This article outlines exactly how this link with Fairfax has led to this explosive growth.
Now it's understandable that having major media group on your side could spike referral traffic and grow some organic traffic. What is interesting is the level that organic traffic has grown. It's very similar to this case study by ViperChill where Hearst Media ranked in Google by using footer links from their media properties such as Cosmopolitan, Esquire and Marie Clare. This led to a massive spike in organic traffic for Bestproducts.com, seeing the results for Oneflare we had an inkling something similar was going. It had to be a massive media player providing tonnes of link juice to get that sort of organic traffic growth. So we ran their domain through a link analysis tool and we found exactly what we expected.
| Linking Domain | # of Backlinks | # of Dofollow Backlinks | First Found Date | Owned By |
| --- | --- | --- | --- | --- |
| https://www.wordofmouth.com.au | 328194 | 328194 | Fri Mar 10 08:00:00 AWST 2017 | Oneflare |
| http://www.smh.com.au | 96383 | 96383 | Mon Jan 16 08:00:00 AWST 2017 | Fairfax Media |
| http://www.canberratimes.com.au | 24977 | 24977 | Thu Mar 16 08:00:00 AWST 2017 | Fairfax Media |
| http://dreamcoatphotography.com | 23972 | 23972 | Mon Feb 13 08:00:00 AWST 2017 | TBA |
| https://www.commercialrealestate.com.au | 23948 | 14 | Fri Mar 03 08:00:00 AWST 2017 | Domain Group |
| http://www.brisbanetimes.com.au | 17935 | 17935 | Sun Mar 05 08:00:00 AWST 2017 | Fairfax Media |
| http://www.watoday.com.au | 13912 | 13912 | Sat Dec 03 08:00:00 AWST 2016 | Fairfax Media |
| http://www.theage.com.au | 8178 | 8178 | Fri Aug 26 08:00:00 AWST 2016 | Fairfax Media |
| http://www.allhomes.com.au | 8023 | 8023 | Thu Oct 13 08:00:00 AWST 2016 | Domain Group |
For those of you who are unsure what's going on here basically Fairfax and Domain's footer links from their existing sites are passing tonnes of link juice to Oneflare. What types of links are these? From what we can tell mostly site wide footer links.
The Age

Allhomes

Now this is where it gets complicated.  Linking from the footers of your related sites is meant to have little impact on ranking with the invent of Penguin 3.0.  Or is possibly even against Google's quality guidelines depending on who you ask. John Meuller from Google stated that sitewide footer links should be no-follow.  But surely this level of link building from footers would lead to a penalty if that was the case.  Like a lot of things in SEO it's not exactly clear what will help and what will hurt rankings.  Footer links are one of the issues that it seems to be a grey issue. Depending on who you ask footer links will either be penalized or boost your rankings. Whatever your opinion it's seem pretty clear that since Oneflare teamed up with Domain and the other Fairfax media's sites they got a major rankings boost. From what we can tell there is no penalty, so what's going on?
Most discussion around footer links is around web developers putting links on their client's site.  This seems to be a big no no for Google as the web developer could easily put the link their without the owner knowing. However in this case the site owner put the link their and they know it, so it's not in any way spam.  Furthermore these are quality site that each generate their own own traffic, not some dodgy private blog. Either way it's working for Oneflare with Google. When Viperchill published his post looking at Bestproducts.com  some SEO's thought it was a risky strategy and they may get penalized. Not so it would seem…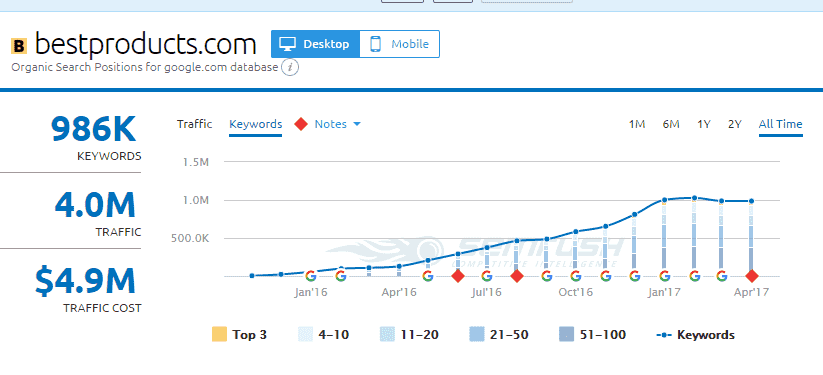 If you own or have access to a bunch of authority sites like Fairfax do, it makes sense to link them together, and you should get some benefit for that SEO or otherwise. The Sydney Morning Herald has been around since 1831 so they've had a fair while to build authority up.
One other way that Oneflare is boosting their Google rankings is by redirecting domains. Oneflare has been given a major boost by what seems to be Fairfax closing down old sites and redirecting them to Oneflare. At a glance Oneflare are redirected these old domains to the category pages on their site and their homepage. Here are a few of the domains that have been redirected.
These re-directs pass link juice on to their landing page and in turn domain. Those that land on category pages probably pass some relevance on to, for example www.wedding.com.au redirects to www.oneflare.com.au/weddings.
No matter what you think of their tactics one thing is clear –  it's working. And at the end of the day that's what matters in SEO. Some smaller players may feel that Oneflare and Fairfax are creating a monopoly by leveraging their power. Wouldn't it be nice if we could all call on a bunch of our own super authoritive sites for links?  But that's the way of the world, and it's no different in search.
So What Will Be The Impact of Oneflare?
 For Small Service Businesses
For small businesses it means unfortunately they may need to start paying for leads through Oneflare. With this amount of traffic they are getting they are a  huge lead generating machine.  Small businesses can quote for these leads at around $7 per lead, depending on the industry.  For those who are ranking on the front page of Google this may mean one more competitor in the SERP. For this smaller players it has some major benefits; you can register and start receiving leads straight away. Certainly the charge per lead make it easy to identify if Oneflare is worth the investment.  As opposes to other forms of advertising where it's hard to define exactly where the lead came from .
For Customers
For customers it's a good system. Simply signing up and receiving multiple quotes makes it easy to get a quote. Like most directories customers can leave reviews and business owners can add certificates to give them some legitimacy so customers can pick the best businesses.
For SEO's and Marketers
For SEO's it's another competitor for clicks.  For a lot of searches that Oneflare is competing in there are up to four ads and the local pack before you see any organic result. Really it's a case of beat them or join them. At the end of the day there is nothing you can do about it anyway but compete. For paid search marketers it may be worth redirecting some of their PPC budget to Oneflare.
So What Can We Learn From This?
It seems that the lesson learned here is once again links are the most important factor for SEO.  The explosive growth since Oneflare teamed up with Fairfax and Domain shows how powerful links are. When it comes to issue of footer links it seems they are fine in Google's eyes as long as they aren't put their without the owner of the websites knowledge. Also linking from sites you own sites in the footer seems fine as long as they are quality sites.