China Trip
As you may or may not know, in early 2007 The Marketing Mix entered the importing industry and opened an office in China. Initially we were a motor industry specific supplier; but we have now expanded to a complete service that includes the sourcing and end to end logistics of delivering a wide range of promotional products that cover the needs of our entire client base.
As we've developed we have begun to specialise in branding promotional products to maximise the attention for retail or loyalty campaigns. It's with this in mind that regular trips to China are made by The Marketing Mix staff in order to source new promotional products and broker deals with suppliers. On The Marketing Mix's most recent trip to China, Director Chris McCarthy and Print Coordinator Joshua McCarthy hit five cities in five days.
The five day trip to China was made to ensure that all our orders for  products ranging from new orders of KeyReturn Key-tags, to other promotional products was under control.
Day one saw Chris and Josh visit The Marketing Mix office in Shenzhen where they met with The Marketing Mix's Office and China Manager, Edward MA. Here they also had meetings scheduled with the KeyReturn suppliers who manufacture the promotional key-tags designed by The Marketing Mix. KeyReturn is a partner company of The Marketing Mix and you can check out examples of client key-tags and how they work on their website. The boys visit to Shenzhen also included visits to the factories that manufacture our promotional water bottles and furniture.
Day two was the city of Ningbo, where Chris and Josh met with their contacts at the Sunshade Factory. We've used this company in the past to produce promotional sunshades for several of our automotive clients. These sunshades can be given away when cars are sold, or used for promotional reasons in the dealership itself.
On Day three the boys made their way to Hangzhou, where they met with a Textile Factory The Marketing Mix are looking to do work with. Finally on
Day four and five they flew to Hong Kong and Macau for the final leg of the trip. This is also where they got into the business end of the trip – Chinese chili.
Apart from the chili, the trip was relatively pain free and successful. The Marketing Mix look forward to continuing our good relations with China and our current and new suppliers. By dealing directly with manufacturers in China, The Marketing Mix are able to cut out the middle man so the creation of value for your customers with your promotional campaign is never eroded by other parties. Not only that, but we know we're getting our clients the best value options because we are sourcing direct from the factory. Plus, by buying in bulk we can pass all the savings directly on to our clients, and their customers.
*For help with your next promotional campaign, talk to The Marketing Mix about their importing/exporting products or KeyReturn International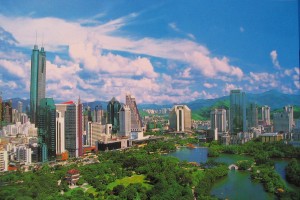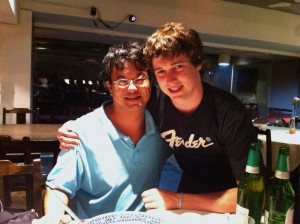 Edward and Josh, Shenzhen